YUMMY Magazine Issue #2 PIETRO BOSELLI 23 pages by Giampaolo Sgura SEALED New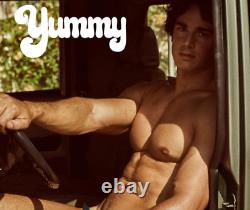 PIETRO BOSELLI Cover + 23 uncensored pages by Giampaolo Sgura. TOBIAS REUTER uncensored shots by Bartek Szmigulski. ARRAN SLY uncensored shots by Bartek Szmigulski.
GREG HODGSON uncensored shots by Dough Inglish. PIERRE VALUA uncensored shots by Bartek Szmigulski. Large format with heavy weight Tens of full page uncensored shots. This listing is for a'must have' copy of this limited edition amazing uncensored photo book.
An item whose value will only grow with the time. If you need further information or additional details feel free to ask us.
If you're looking for particular magazines/books we could find them for you. If you have ANY question or need, don't hesitate to ask us. If you need more magazines, we can do custom reserved offers so ask for your. Item's list and we'll give you a quote. Since we're mainly focused on vintage & collectible items, we'll try to do our best in order to describe & classify our magazines/books condition.
Whatever is our item classification, feel free to ask for further details. Below you'll find the classification scale of our items. SEALED [Never read, still in original cellophane]. BRAND NEW [Never read, newsstand condition]. MINT [Never read, perfect condition]. EXCELLENT [Used, almost perfect condition]. VERY GOOD [Used, very good condition, minor wear].
GOOD [Used, good condition, creases or llittle damages]. ACCEPTABLE [Used, normal wear and tear due to age, may be damaged].