Vintage 1983 Trans World Skateboarding Magazine #1 Skateboard First 1st Issue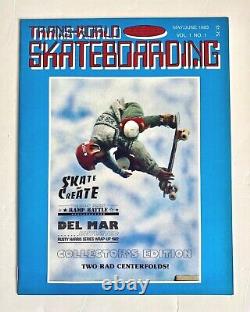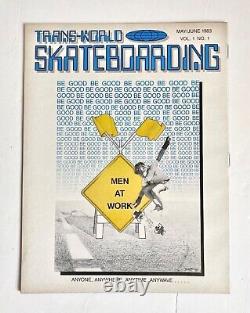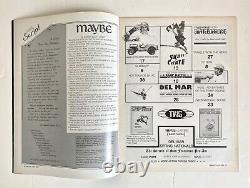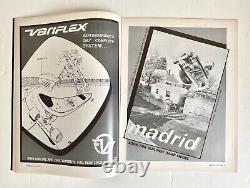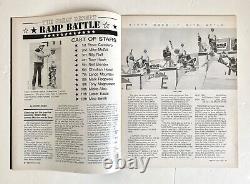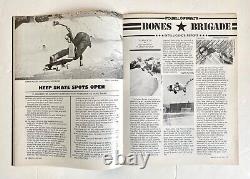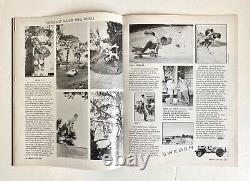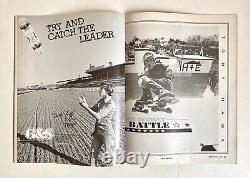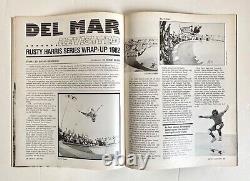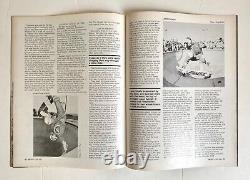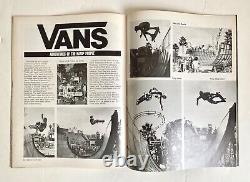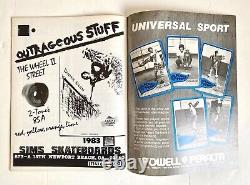 Vintage (1983) 1st Issue "Trans-World Skateboarding" Magazine Vol. This is Vintage (1983) 1st Issue of "Trans-World Skateboarding" Magazine from May / June 1983 Vol. It was published by "The United Skate Front", Cardiff, California, USA. It features (color) front and back covers and 41 (black / white) interior pages including 2 centerfolds. (Steve Caballero) is featured on the cover. Famous skaters from the 1980s are featured inside the magazine, in stories or pictures, including. Christian Hosoi, Stacy Peralta, Lester Kasai and more! It also features Ads from popular 80s Era Skateboard and Accessory Companies including (Tracker Trucks, Madrid Skateboards, Variflex Skateboards, Van Doren Shoe Company - Vans, Powell Peralta Skateboards, Sims Wheels, Gullwing Trucks) and more. It is in Very Good Condition (Please see pictures for exact condition). The History of Trans-World Skateboarding Magazine. TransWorld Skateboarding is a skateboarding magazine, website, and production company owned by Bonnier Corporation. Founded in 1983, TWS was a response to Thrasher Magazine and specifically to the December 1982 article'Skate and Destroy' written by C. Stecyk III under the pen name'Lowboy', and the February 1983 advertisement for Independent Trucks that featured a topless model with Independent decals on her breasts. TRANSWORLD began publishing under the ownership of Larry Balma, owner of Tracker Trucks, and Peggy Cozens. Initially, the publishing and editorial team were known as the'United Skate Front'. Balma later spoke of the magazine's beginnings as a reaction to Thrasher, saying'They were pretty harsh, sex and drugs and using four-letter words and all that and in the early'80s, the sport started growing and (Thrasher) wasn't the best magazine for young kids' (Union-Tribune, 2003). The first issue of TWS contained the article'Skate and Create' and its author Peggy Cozens noted'I have become increasingly concerned about a new skate attitude being pushed on skaters: Skate and Destroy' Cozens, 1983, p. The article went on to highlight the positive and creative side of skating.
The stance of the magazine remained positive (Weyland, 2002) to the extent that Thrasher owner Fausto Vitello wrote'They were about Skate and Create; we were about Skate and Destroy. The magazine recruited David Carson as art director in 1984 and he remained with TWS until 1988 and gave the magazine a distinctive look. This period also featured the photographic work of J. Grant Brittain and Spike Jonze, and editorial contributions by professional skateboarders such as Lance Mountain, Tony Hawk, Neil Blender, Steve Berra, Marty'Jinx' Jimenez, Garry Scott Davis, and Mark Gonzales.
In late 2001 the magazine was famously packaged with an AOL software disc which prompted the editorial note the following month that stated'Sorry for the poly-bagged edition with the 1,000 hours of free Internet access from AOL. We here at the magazine didn't even find out about the atrocity until (the magazines) made it into the office.
We feel just as violated as you' (Union-Tribune, 2003). Internal tensions between the magazine staff and owners AOL Time Warner prompted a walkout of several key editorial members including J Grant Britain, Dave Swift and Atiba Jefferson to form The Skateboard Mag in 2003 (ibid). The print edition continues to boast a 60%+ market share in the skateboarding category and is the largest skateboarding magazine in the world (Audit Bureau of Circulations), with a satellite edition TRANSWORLD SKATEBOARDING Japan.
On September 12, 2006, Time Inc. Announced the sale of Time4 Media, comprising eighteen print magazines, including the TRANSWORLD group of titles. Golf and This Old House were not included in the sale; both magazines were folded into the Time Inc. The rationale for the sale was that these magazines no longer fit into Time Inc. Time Inc will officially transfer ownership on March 1, 2007 [3].
This item is in the category "Books & Magazines\Magazines".com" and is located in this country: US. This item can be shipped worldwide.
Topic: Skateboarding
Publication Name: Trans-World Skateboarding
Features: 1st Edition, Collector's Edition
Publication Month: May, June
Publication Year: 1983
Language: English
Publisher: The United Skate Front
Genre: Sports