Physique Pictorial Vol. 2 No. 1 Aug 1952 Vintage Male Beefcake Magazine, Very Rare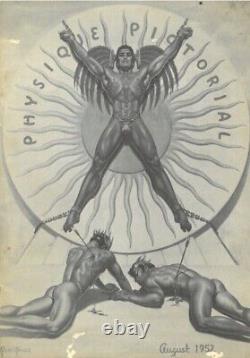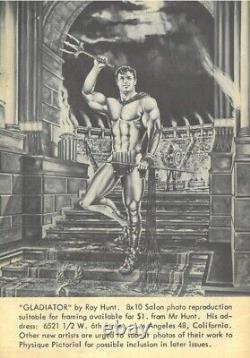 3 August 1952 issue No. 5, Vintage Male Beefcake Magazine, Very Rare.
In 1945 Mizer started the Athletic Model Guild in Los Angeles as a modeling agency for male body-builders. Mizer, a self-taught photographer, recruited and photographed the models, carefully listing their vital statistics along with their real names and ages. By 1951 Mizer's catalog was so extensive that he began to collect his photos and sell them in a magazine format. The first publication of its kind, Physique Pictorial showcased a generation of male pinups and bodybuilders, including the recently-deceased Jack LaLanne, Little Joe Dallesandro, Steve Hercules Reeves, and Mickey Hargitay (the husband of Jayne Mansfield and the father of Mariska Hargitay).
Physique Pictorial also showcased the art of George Quaintance, Tom of Finland and Art-Bob. Physique Pictorial became a hit with thousands of men, and it was soon joined by a slew of imitators who hoped its success would rub off on them. (March 27, 1922 - May 12, 1992) was an American photographer and filmmaker, known for pushing boundaries of depicting male homoerotic content with his work in the mid 20th century.
Bob Mizer's earliest photographs appeared in 1942, in both color and black and white. He began his photography career apprenticing with former silent film star Frederick Kovert, who operated a physique studio in Hollywood.
In spite of societal expectations and pressure from law enforcement, Mizer built a veritable empire on his beefcake photographs and films. He established the influential studio, the Athletic Model Guild (AMG) in 1945, but by the time he published the first issue of Physique Pictorial he was operating the studio on his own at his home near downtown Los Angeles. He photographed thousands of men, building a collection that includes nearly two million different images and thousands of films and videotapes. In the 1950s, several other photographers were doing similar work, such as Alonzo Hanagan in New York City (Lon of New York), Bruce Bellas in Los Angeles (as Bruce of Los Angeles), Douglas Juleff (as Douglas of Detroit) in Michigan, Don Whitman of Western Photography Guild in Denver, and, on the West Coast, Russ Warner in Oakland and Dave Martin in San Francisco. Regardless of the attempts to suppress his work, Mizer continued to pursue his vision, influencing artists like Robert Mapplethorpe and David Hockney.
[4] Over time he captured on film the career beginnings of a number of soon-to-be Hollywood actors, including Glenn Corbett, Tab Hunter and Dennis Cole. Examples of Mizer's work are now held by esteemed educational and cultural institutions the world over, and can be found in various books, galleries, and private art collections. New York University's 80 Washington Square East Gallery presented what it called "the first major institutional solo presentation of Bob Mizer's work to be shown anywhere in the world" in early 2014, where artists Bruce Yonemoto, Karen Finley and Vaginal Davis added to NYU's scholarship on Mizer. The New York Times reported that the exhibition makes a good case for [Mizer] as an artist with interests and imagination considerably more expansive than what his popular reputation suggests. Mizer was repeatedly targeted by authorities in relation to his trade in photographs and film.
In 1945, he was visited by US postal inspectors, who searched his room and found "dirty pictures", but he avoided prosecution. As a result of the investigation, Mizer was arrested for contributing to the delinquency of a minor, after it was found he had taken nude photographs of a seventeen-year-old, James Maynor. He was sentenced to six months at a prison farm in Saugus, California. Mizer used a set of codes to record information about the temperament, physical characteristics, and sexual proclivities of AMG models, and covertly shared this information with photographers and others to whom he would loan out models.
This practice led to an arrest by the Los Angeles vice squad for running a prostitution ring. He was convicted, and author Jeffrey Escoffier speculates that he was imprisoned for part of 1968 as a result, explaining a lapse in the run of Physique Pictorial that year. I have been an owner of numerous gay sexual business's since 1969, one of them was the Bijou Theater and sex club that closed in 2015 and Bijou World. I set prices for collectible item's based on what I paid, quality, rarity, market value. I cater to collectors, those who give gifts, those who are looking for a specific man, item, article etc. Bijou's inventory is over 35,000 magazines plus thousands of brochures etc. As a collector myself I dislike it when sellers misrepresent items their offering by making very general descriptions as Very Good, Excellent, Like New, New knowing that the items have creases, tears, rusted staples, very visible wear or just leaving defects out. This item is in the category "Books & Magazines\Magazines". The seller is "vgoodperson" and is located in this country: US. This item can be shipped to United States.
Country/Region of Manufacture: United States
Topic: Gay Beefcake Magazine
Publication Name: Physique Pictorial
Features: Vintage, 1st Edition
Publication Month: April, June
Publication Year: 1952
Type: Magazine
Theme: Antiques & History
Media Type: Magazine
Language: English
Brand: Physique Pictorial
Special Attributes: 1st Edition