ORIG 1913 National Geographic Society RUMANIAN PEASANT GIRL-EXTRMLY RARE wUPDATE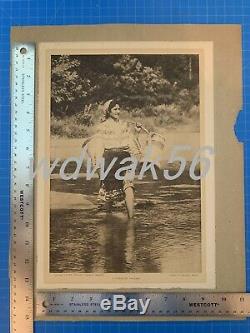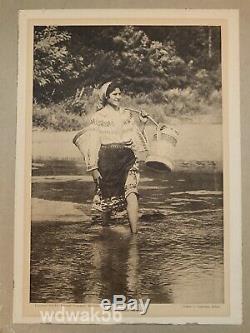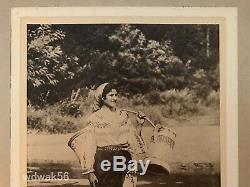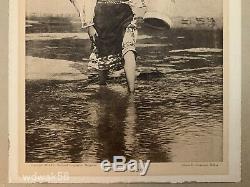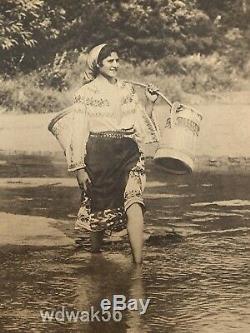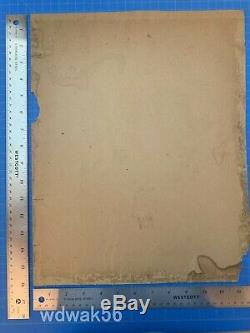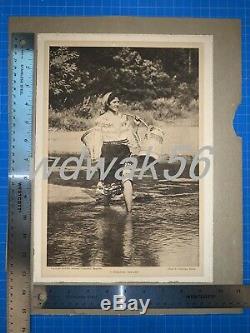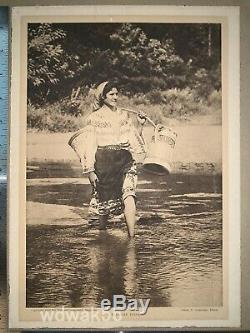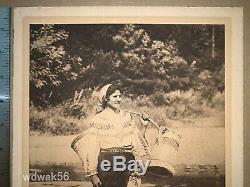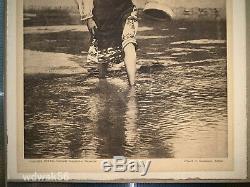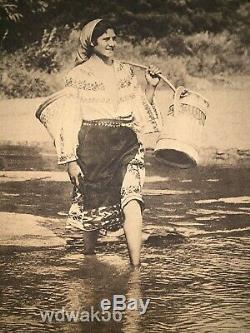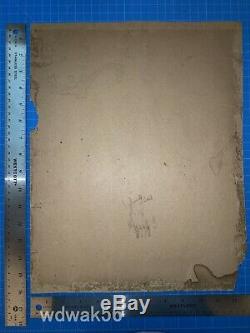 This lot consists of an ORIGINAL. October 1913 National Geographic Society PICTORIAL SUPPLEMENT per Edwin C. Buxbaum also known as a Nonsupplemental Pictorial per Roger E. Size 9 1/2 x 13 1/2 Inches, Sepia photogravure (Buxbaum's description and precisely the size of the print offered here today).
This print is extremely rare and among the most scarce of all NGS related collectibles including the Prospectus and all of the magazine numbers. UPDATE INFORMATION (Please excuse the length, but it's important) : This print was first offered by the National Geographic Society in December 1913, 2 months after the photo itself first appeared in the October 1913 issue on page 1084. In this first ever full-page Ad that included a photo of The Rumanian Peasant Girl, the following is written. So much interest has been expressed in the picture of the Rumanian Peasant Girl that it has been produced in photogravure, size 9 1/2 x 13 1/2, on art-mat board; price, 50 cents each. Copies, framed or unframed, desired for gifts can be sent anywhere in the United States with your card enclosed, just before the holidays. These photogravures can be obtained nowhere else and only a limited number are available. In January 1914 the 2nd and last full-page feature Ad was run again. Then from June 1914 through January 1915 this print was offered along with several others each month. In August 1915 this print was offered again with others.
In November 1915 it was again offered in a line item listing. In January 1916, March 1916 and lastly November, 1916 this print was offered again. In ALL cases the print is Size 9 1/2 x 13 1/2, just like the one listed for sale here. As well, I feel certain at this point that the print is mounted on the very art-mat board described repeatedly in the National Geographic Magazine ads. The only question in my mind is whether or not the prior frame that this print was under was a National Geographic Society frame, or a personal frame chosen by original owner.
In any case, the print was never offered as a paper print, but always mounted on an art-mat board, which it is here. One more NOTE: Roger Nathan used a different size for this print, which is 8 x 12 and I finally figured out why.
In December 1918, this photo was featured for only the 2nd time in the National Geographic Magazine on page 467 under which was captioned, "Pride of Race Is A Striking Characteristic of the Rumanian", within the article titled, The Races of Europe that month. Exactly 1 year later in December 1919 there was an Ad for A Rumanian Peasant Girl again as part of a 2-page Ad for Geographic Panoramas for Christmas, and the print here was Size 8 x 12. So, there were 2 different sizes to this print, but only 1 Ad for the smaller size in December 1918, which makes me wonder if Roger Nathan actually had a copy of that later printing that was somewhat smaller than the earlier one that was heavily advertised for a couple years as compared to this later print that was only offered 1 time at the smaller size. I really can't imagine why Roger did not also include the larger size print 9 1/2 x 13 1/2 inches that was clearly listed in all of the earlier Ads and have to assume that it was simply an oversight not an intention. So, now it all fits together for me. The question is, do you understand what is being offered here and do you have any questions or concerns.
Please don't hesitate to contact me for any reason including your Best Offer if you are so inclined. Edwin C Buxbaum said of this print in his 1971 last edition Collector's Guide To The National Geographic Magazine on page 273. This plate was originally in the October, 1913 issue of the Geographic, page 1084.
It is illustrated in black and white in advertising brochures for 1913, 5 1/4 x 7 1/4, and in 1916, 4 x 5 5/8. In an advertising brochure for 1915 it has been printed in full color, 4 x 5 5/8. It has also been reproduced in various miniature sizes in other places in the Geographic. No full-size print has ever been located to the best of my knowledge. He also said that it was also offered by the Society as a framed print.
However, Roger Nathan listed the size as 8" x 12" and I now have a clear understanding as to why, which is explained in detail above in my UPDATE. My guess is that Roger did not have access to an original 1913 print and instead was referencing the 1-time only sale of the 8 x 12 inch print from the December 1919 Panoramas for Christmas sale in the National Geographic Magazine, which did indeed offer a smaller print than the original 1913 print. The print was mounted on thick hard National Geographic Society art-mat board prior to sale, which now has irregular edges around perimeter from imperfect removal from under framed glass by recent owner. The bottom 1/2-inch left corner of the print is no longer stuck to the art-mat board but the vast majority of the print appears to be firmly attached and there are tiny brown bleeding spots around some of the outside print perimeter edges that look like the glue that was used by the National Geographic Society to hold the print to the board (see photos). The print is in Very Good Condition being Complete and unmarked aside from the NGS print information but appears to have a layer of residue that accumulated over the many years under the glass frame making the illustration somewhat dull and muted.
I believe that the print could be professionally cleaned and brought back to life by a professional conservator but have elected not to do anything whatsover to the print so that the next owner can make that determination and decision. There's not much more to say about this print other than that I have no idea what the value is since I have never seen another one for sale through all the many years. I still do not know if the National Geographic Society ever located one or more of these prints for their archives, so perhaps someone out there knows something about this and would be willing to share that knowledge.
Please examine the 12 photographs included with this listing. The first 6 photos were taken with indirect indoor lighting and NO sunlight.
The 2nd group of 6 photos were taken with an iPhone camera flash under exactly the same conditions aside from the flash. I'm happy to provide any additional photos that may be required to further evaluate this print. I have other photos including the two times that this photo was included in the magazine as listed above, being page 1084 of the October 1913 issue and 5 years later on page 467 of the December 1918 issue as well as photos of the 2 large feature Ads from December 1913 and January 1914 and especially importantly the December 1919 Ad that lists the print as 8 x 12 Inches for this 1-time only offering. We genuinely appreciate your interest in our store listings and we thank you very much for looking at this very special listing! DOUG'S VINTAGE NATIONAL GEOGRAPHICS.
The item "ORIG 1913 National Geographic Society RUMANIAN PEASANT GIRL-EXTRMLY RARE wUPDATE" is in sale since Sunday, March 22, 2020. This item is in the category "Books\Magazines".
The seller is "wdwak56" and is located in Cross Junction, Virginia. This item can be shipped to United States.
Format: Physical
Publication Name: National Geographic
Subject: Children
Language: English
Issue Type: Special Issue
Special Attributes: Nonsupplement Pictorial - Special Pictorial
Year Published: 1913