Jane Sellers Collection of Hugh Hefner & Playboy Memorabilia (1943-2017) CGC #1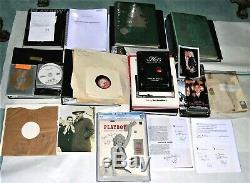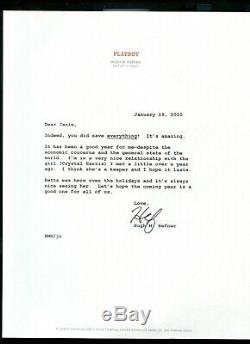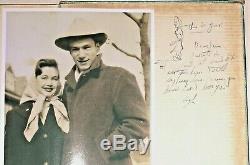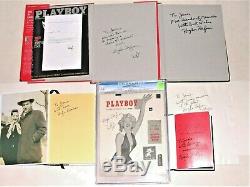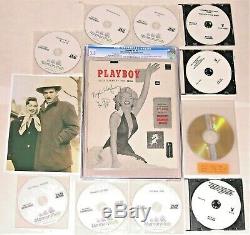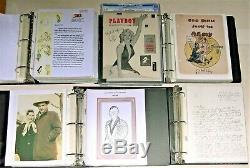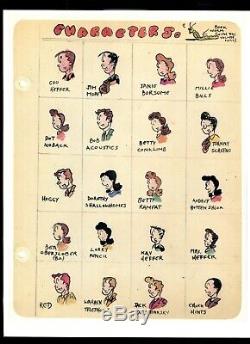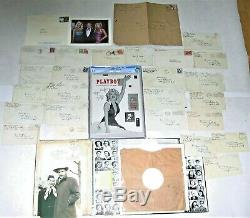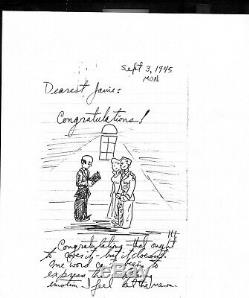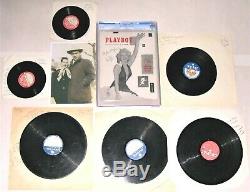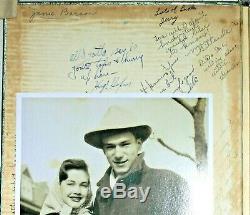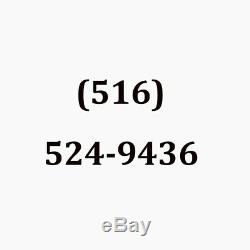 A lifelong friendship in letters, yearbooks, dvds, recordings, the first Playboy magazine and much, much more for sale as a truly one of a kind collection. This collection consists of originals and copies of "correspondence" from Hugh Hefner to Jane Borson Sellers.
Jane ("Janie") Borson and Hugh Hefner met during their junior year at Steinmetz High School in Chicago. Who could imagine that they would remain friends until their deaths, one month apart in 2017? At age 16, Janie knew that Hef was a "genius" and decided to keep everything he sent her throughout the decades; letters (copies and originals), personally signed books, original drawings, as well as, a special copy of "School Daze" (his cartoon book from high school which includes Hef, Janie and all "The Gang") that is inscribed "to Janie", original (Hef's voice, Janie's voice, Eldon's voice, etc) "audio letters" (recordings from the 1940s, with varying degrees of scratchiness) that he made specifically for her (& two audio letters of Eldon and Janie talking to one another), the only twice signed and twice caricatured original #1 Playboy in the world & lots more. This #1 Playboy was originally owned by Janie's husband, Eldon Sellers, who was with Hef when Playboy launched and is credited with giving Playboy its name. Eldon gave this Playboy to her several years ago and in 2007 Janie sent it to Hef and asked him to sign it.
Not only did he sign it, but he did something he never did for anyone else... He signed it twice and drew two caricatures, one a self-portrait ("Goo Heffer", on the front cover) and the other a pipe-smoking bunny (inside, on page 3). After his mother (Jane Borson Sellers) died, Rory sent this Playboy to CGC for grading & they did an unprecedented thing, they put "From The Collection of Jane Sellers" on the CGC label.
I have never seen that done for any other Playboy magazine. The rest of this huge collection validates not only the friendship between Hef and his "Janie" but also the love and depth of their friendship. Just reading all the letters Hef wrote to Janie gives the reader insight into the brilliant mind of the man who created the most important "men's magazine" of the 20th century, if not of all time. INVENTORY IN THIS COLLECTION (ALL SENT BY HEF TO JANIE).
CGC UNIVERSAL GRADE 3.5 "PAGE 3" #1 Playboy TWICE autographed & TWICE caricatured by HUGH M. ONLY ONE OF ITS KIND IN THE WORLD! Original owner, Eldon Sellers, person credited with coming up with the name "Playboy" for Hef's creation.
Eldon gave this Playboy to his wife, Janie Borson Sellers: CGC label reads "From The Jane Sellers Collection", i. "Provenance" for this Playboy ON THIS LABEL!
Also included, letter from Jane to her son, Rory, telling him the origin of this magazine and explaining how she sent it to Hef and asked him to sign it. She describes how Hef not only signed it but did so twice, as well as, drew the "Goo Heffer" self-portrait on the front cover and pipe-smoking bunny inside (on page 3).
Hef, and his personal assistant, Peter Glassberg, also wrote personal notes to Janie: all this is included with this listing. 1943 Steinmetz HS Yearbook (Janie's): drawing & writing (by Hef) inside front cover & drawing of Janie and writing (again, by Hef) inside back cover pages. 1944 Steinmetz HS Yearbook, Hef's graduation picture p. 30 Hef cartoons (he was cartoonist for this yearbook).
Binder #1: "Hef's Retyped Letters". 300 pages of typed letters from Hef to Janie. Binder #2: Hef's School Daze:Volume 8 ('Reproduction - Gift from Hef'). " Begins with original letter (on embossed stationary) dated, signed and doodled (self-portrait "Goo Heffer) by Hef. 59 color pages (copies) of Hef's "School Daze" series and 11 page personal letter (copy) from Hef to Janie ("Dear Slug"), dated Feb.
4, 1944, telling her how he feels about the two of them. This item was dedicated to Janie by Hef.
1 of 2 - Over a hundred pages of illustrations, envelopes & letters (all with illustrations carefully taped to pages by Janie). Binder #4: "Letters From The Innocent Playboy Part Two (copies): 1944 - Graduation, Loves, and the Army": Nearly 100 pages, letters, caricatures, etc. (1) "Hef's 1942 Home (Horror) Movie'Back from the Dead' with Jim & Betts" (that's what Janie calls it):is approximately 10 minutes long & has subtitles, written and starring a black mustached 16 year old Hef. (3) USC Honor - 3/28/1996.
(4) USA Film - 1999. (5) Entertainment Tonight Weekend with Hef & Crystal Harris Interview Re their engagement'Behind the Scenes' with ET (2011). 6 "CBS This Morning" (2014)'Notes to Self' with Hugh Hefner.
(8) "Mable at the Party", (Mable Mercer singing). (9) Biography w/JS (5-6-96), and. (10) "The Girls Next Door - Glued To Their Seats (2008) - Uncensored".
HUGH HEFNER TO "JANIE" PERSONALLY SIGNED BOOKS. (1) HEF'S LITTLE BLACK BOOK: To Janie - with loving memories!
(2) "PLAYBOY STORIES: THE BEST FORTY YEARS OF SHIRT FICTION (1944) - To Janie - with love, Hef & Kimber". (3) THE PLAYBOY BOOK - FORTY YEARS (1944): To Janie - Five decades of memories, with Best Wishes. (4) INSIDE THE PLAYBOY MANSION (1998): To Janie, Who was there in the beginning and shared the dreams, Love, Hugh M. Hefner plus Bunny smoking-pipe caricature by Hef.
(5) THE ART OF PLAYBOY (1985): To Janie with loving memories of the past, Hugh M. Six (6) ORIGINAL (Absolutely One-of-a-Kind) "AUDIO LETTERS" (small, lightweight records): With varying degrees of "scratchiness" (from 1940s). (1) (4-1-43) First side: Title "Figure it out for yourself", By "Some jerk I dunno", Date 4-1-43. Second Side: Title Who cares? " By "Who Knows, Date 4-1-43.
Hef talking to Janie on the record and he plays a song that he likes for her. He mailed this to California where Janie and her family had moved because her father was assigned there to do training for the army during WW2. It is pretty amazing to hear Hef at 16 years of age! (2) Title "Radio Script" (2 sides), By"HJB" (Hef's combining of he and his friend Jim Brophy's names). Dated august 20.1943: 17 year old Hugh Hefner ("Goo Heffer") reading a script that includes a take-off on "Bulldog Drummond".
The number "7" (colored in red) on side one and the number "8" on side two. (3) "Uh uh" (undated): Camp Hood, Texas, Hef & Brophy (mostly pretty clear).
(4) Title: Not much of anything, By Nobody, Date 12-13-44. Side 2 has Hef singing (very scratchy). (5) Eldon Sellers & Janie Borson Sellers: Side 1 has Eldon and Janie talking and Eldon singing El Sings!
& Side 2 , "Now Janie's Turn" (lots of skipping on this side). (6) This recording was done by Janie and her husband, Eldon Sellers: "Aug 30th, 1946 Long Beach, Calif": Recorded only on one side. Clearest record of all recordings - Eldon and Janie going shopping for "Joe", their first child to be born in 5 weeks. Child was actually named William when he was born in October of 1946.
High School Hugh Hefner Drawing on Brown Paper RecordAlbum Sleeve (VERY DELICATE): It stinks - HH. HH & JB singing (JB) right side, 2 caricatures singing left side. With note to Janie on HMH embossed stationary, December 5, 1988: Dear Janie, I thought you might enjoy this special 35th Anniversary issue of Playboy. See you on New Year's Eve, Love, Hef. And there's even more, quite a lot to unpack, as they say. The item "Jane Sellers Collection of Hugh Hefner & Playboy Memorabilia (1943-2017) CGC #1" is in sale since Friday, March 6, 2020.
This item is in the category "Books\Magazines". The seller is "roberts5928" and is located in Babylon, New York. This item can be shipped worldwide.
Issue Type: Monthly
Modified Item: No
Country/Region of Manufacture: United States
Publication Name: Playboy
Subject: Men's Interest
Language: English
Month: December
Year Published: 1953
Special Attributes: 1st Edition