J. R. R. Tolkien, First Tolkien Society, Rare Magazine 1966, Vol. 2, #1, (5th)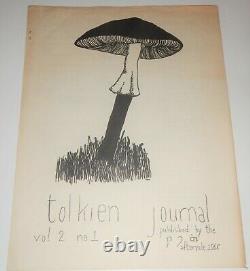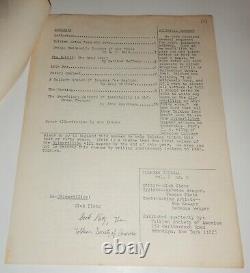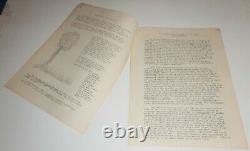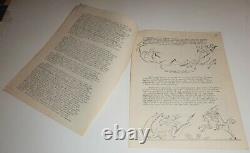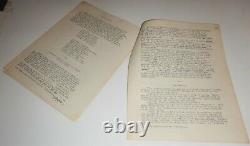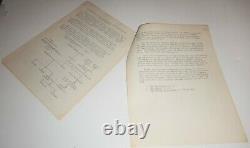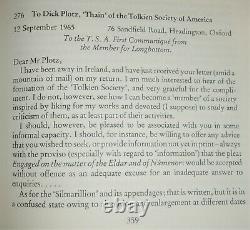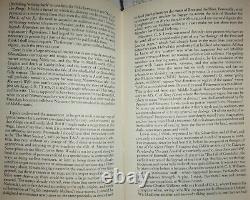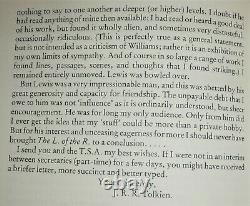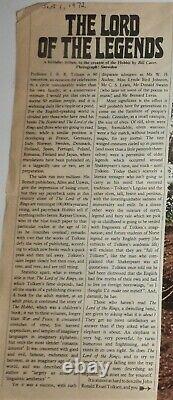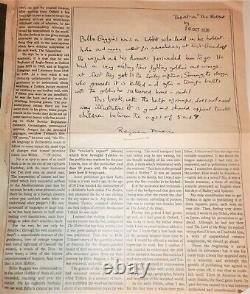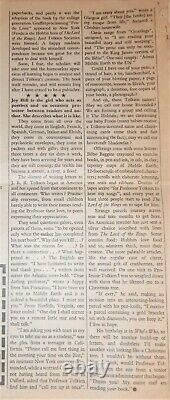 One of the earliest editions of the original Tolkien Fan Journals weve seen. A real piece of history! Age and use related wear.
Containing mention of Ian Ballantine, of Ballantine books, a hand drawn sketch from Farmer Giles of Ham, in the style of Pauline Baynes, among other interesting content. Founded less than 12 months earlier in February 1965, so assuming 1st issue round then and published quarterly, this would be the 4th or 5th issue? There may have been fewer. The history of Tolkien fan clubs is important to understanding the culture phenomena Professor Tolkien and his works has become.
There are now Tolkien Societies around the world, most unaffiliated, but these earliest founded Societies started Tolkien fandom as we know it today and the vert first: the American TS deserves credit for recognizing Professor Tolkien's masterpieces before anyone else. Because none were officially endorsed by Professor Tolkien or his Estate, much of the history of fan clubs comes from the clubs themselves. Professor Tolkien disliked the attention of fandom and by extension fan clubs.
What we do know as fact is what he wrote in his correspondence. The first Tolkien fan club started in America in February 1965 a full five years before Britains Tolkien Society. They first met "in February, 1965, beside the statue of Alma Mater on the Columbia University campus, " according to a 1967 New York Times. The Society's founder and first Thain. By 1967, Meskys had become Thain and the society boasted over 1,000 members, organized into local groups or.
A pattern that would be followed by other Tolkien fan organizations. Members per this edition included Ian Ballantine, co-founder with his wife Betty Ballantine. The society published a newsletter. In 1969, the society sponsored the first Tolkien Conference at Belknap College. The Tolkien Conference was not a science fiction convention.
But rather a scholarly event. All this was because of the popularity of the 1965 unofficial Ace paperbacks as well as the hardbacks for people that could afford them, the Ballantine official paperbacks were far cheaper and it made them more accessible to the general public. The Lord of the Rings. Took off with the hippies and college campus because they identified elements of the story with the social politics of the day.
Professor Tolkien disapproved of these political, social, even religious interpretations and allegories of his work. It is interesting to note that the first Hobbit paperback in Britain 1991 attracted little notice in Britain comparatively. In The Letters of Tolkien you can read that Richard Plotz, founder of the American TS wrote to Professor Tolkien to ask for his participation. Tolkiens response was it would not be appropriate for an author to join in an appreciation club of his own work, but his long enthusiastic reply and suggestions, including not using his name, indicates his approval. Much later the nearly founded UK Tolkien society managed to get approval as honorary President through his publisher.
He didn't participate and any association legally expired on his death. The significance of the delay between founding of the two societies is that sales of his LotR books in 1965 went from several thousand copies per year to 3 million per year by 1968 thanks to the American fans, while most of Britain (his own country) and the rest of the world still hadn't discover him.
Were it not for the paperbacks and early American fans, who knows how long it would have taken, if at all, to be discovered? The significance of these early fanzines and paperback cover art (see my listing of the original concept art) is vital to the history of Tolkien.
In the history of any cultural. Phenomena there's the line of before popular mass market discovery where only a small recognize the true genius. We feel collectibles and books at of before this line of discovery hold extra significance and value. January 15, 1967 New York Times. "Most of what goes on at Tolkien Society meetings is pretty'in' stuff, " Richard Plotz, the 18-year-old, Harvard-bound Brooklynite who is founder and president of the organization, said recently. We hiss when Black Riders are mentioned because they're evil, and discuss subjects like the linguistic breakdown of Elen sila lumenn omentielvo , which means'A star shines on the hour of our meeting. The Tolkien Society of America first met in February, 1965, beside the statue of Alma Mater on the Columbia University campus. Today, it numbers about 1,000 members. Because the headquarters are in New York, most major meetings are here, but smaller discussion groups, called smials , are held all over the country. "People don't wear costumes ordinarily, " said Mr. Plotz, although at our last meeting, the checkroom girl at the Hotel One Fifth Avenue did find that she had two unclaimed dwarf-sized cloaks and four dwarf hoods at the end of the evening. But usually the only special things people wear are campaign buttons that say,'Support Your Local Hobbit' or'Go, Go, Gandalf. A few members may have titanium steel washers hung around their necks, because they're the industrial kind of washer that's big and smooth, and some people think they resemble the Ring itself. " The Ring, of course, is the raison d'etre of the various hobbit expeditions that are the subject of Tolkien's "The Lord of the Rings. We eat hobbit food, but, basically, when we get together, it's an ordinary meeting-type setup.
Our members are doctors, teachers, lawyers, Army officers, housewives and businessmen, as well as students. Until the last time, we've always met at my house, and sat around on the floor talking about theogony and the geography of Middle-earth and things like that. Of course, every once in awhile, someone may charge someone else with an imaginary sword, crying'Elbereth Gilthoniel,' which is the name of a princess of old and a very power-giving thing to say. Tolkien, First Tolkien Society, Rare Magazine 1966, Vol. 2, #1, (5th)" is in sale since Saturday, September 12, 2020.
This item is in the category "Books, Comics & Magazines\Antiquarian & Collectable". The seller is "dogfark" and is located in Machynlleth. This item can be shipped worldwide.
Year Printed: 1966
Title/Series: The Hobbit
Author: J. Tolkien
Original/Facsimile: Original
Special Attributes: 1st Edition