HIGH GRADE Who's Who in Baseball Magazine Lot x50 Complete Run 1967-2016 MLB HOF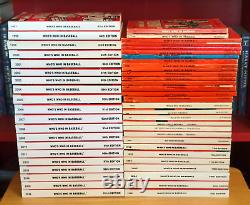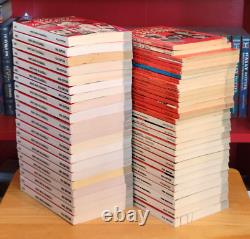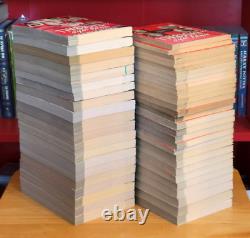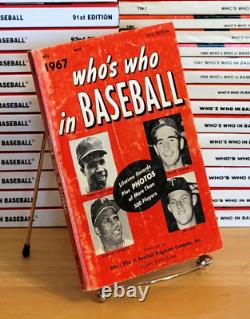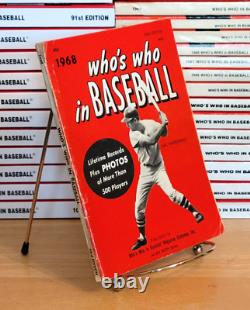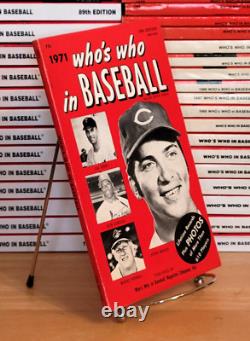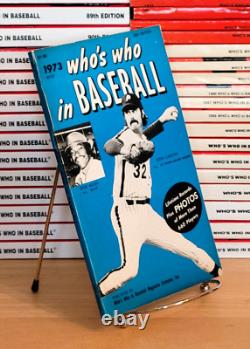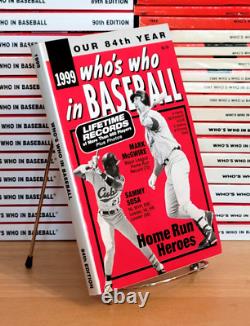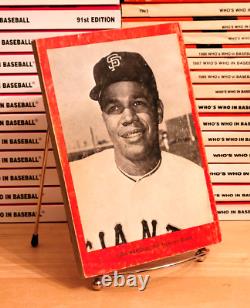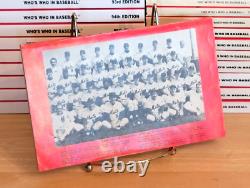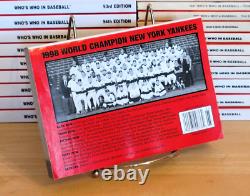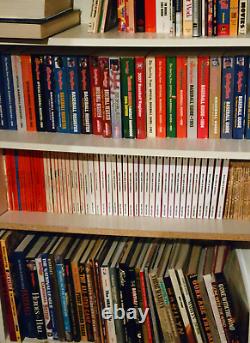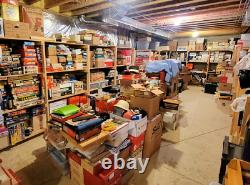 50 Total Magazines, Full of HOFers. Beautiful complete run of 50 issues of this key annual reference work documenting the lifetime statistics of current MLB players and summaries of the previous season.
Trade magazine published by Who's Who in Baseball Magazine Company, Inc. Nearly all look and feel UNREAD with no spine creases and bright colorful wrappers. Very hard to find such a large run in high-grade condition. All 50 issues from 1967 (52nd Edition) through 2016 (103rd Edition). Rear panel shows players for 1967 J.
Rear panel of all remaining issues shows team pic of previous year's World Series winner. With the exception of the first two issues (VERY GOOD with minor surface wear and small nicks/creases to some edges/corners), these magazines are NR-FINE or FINE and look/feel UNREAD and never fully opened, with strong bindings, standing square/flat, and no reading creases on spines.
No interior writing/markings; one small owner name in ink on the front panel of the 1969 issue. Normal minor sunning to the edges of the early issues but no foxing or staining to any edges. Bright smooth wrappers/jackets with great color and contrast; very minor normal shelf wear to edges/corners but no chips, tears, creases, or discoloration.
NOT ex-library; NOT price-clipped; NOT remaindered on edges. PROVENANCE: I recently began assisting a local retired accountant with his vast childhood collection of sports cards, sports memorabilia, books, and toys (partially shown in last pic).
He kept nearly everything he acquired as a kid, including packaging ephemera. He personally assembled this magazine collection year by year and stored them on one shelf among a large collection of sports books (shown in second-to-last pic). Without direct exposure to sunlight in a. See my other sports books and vintage baseball cards. Is a virtually flawless copy, new or like-new and probably never read.
Fine (F) is a copy with no large defects, but is not as pristine as a very fine copy. It may have been read, but with care. Possible minor flaws include a bumped corner, a slightly sunned spine, rubbing, slight soiling, or a very tiny tear.
Very Good (VG) is a copy with two or more small defects. It may be rubbed, have a small tear, a dinged corner, or other minor defect.
Good (G) is a copy with some obvious large defects and/or several small defects. There may be a larger tear in the dustjacket, a large gift inscription, be very sunned, have a creased spine, or have other defects. Many ex-library books fall into this category.
Makes a good reading copy. Fair (F) indicates a copy with very serious defects. It may actually have some loose pages, underlining or highlighting, or be very soiled. Store: I specialize in first-edition fiction (1960s-1990s) and high-grade PSA-graded sports cards (modern). All sales help fund graduate school. Thanks very much for visiting. Books are packaged with care in combinations of bubble-mailers and boxes to ensure they arrive in the same condition as described in the listing. I'm fair about this, please ask with any questions.