Harper's Bazaar Italia Magazine March 1976 & October 1978 Italian Language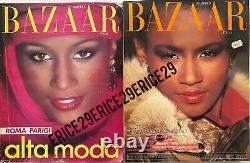 Harper's Bazaar Magazine June 1967 Julie Andrew's Cover Samuel Beckett. The Pants Kick for Evening. Sister Islands: Trinidad and Tobago. Pantdressed and Barefoot The Pantdress in Trinidad.
The Pant Point: The Culotte, The Shirt-Short The Pant Point in Flowers Pick of Peach Cold Power Evening Directions: Givenchy Directions'67: Givenchy Evening Directions: Balenciaga Directions'67: Balenciaga. What a Wonderful Beauty Idea.
A Century of Beauty Impact. To Every Thing There Is a Season Canada in Its Season by Roloff Ben. Roger Stevens: America's Arts Man- by Natalie Gittelson. Not To Be Missed- by Geri Trotta.
Donald Brooks Talks About Julie Andrews as. Eye on the Sky--by Xavora Pové. Scene and Not Herd-Waiting for Godard-by Michel Vianey. Travel Bazaar- Canada--by Roloff Beny. The Editor's Guest Book.