GEOGRAPHICAL MAGAZINE 1874/RARE 1st Edition/101 FOLDOUT WORLD MAPS/FINE LEATHER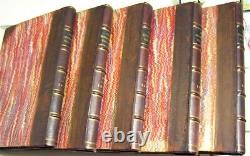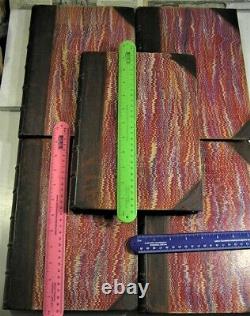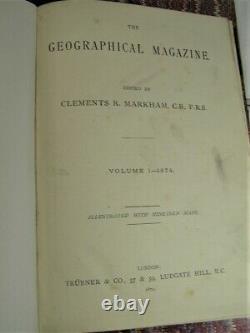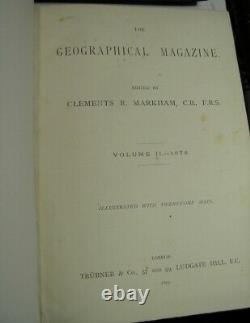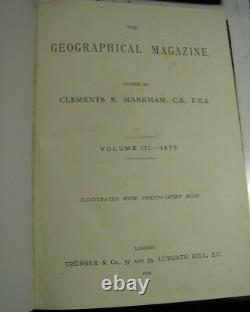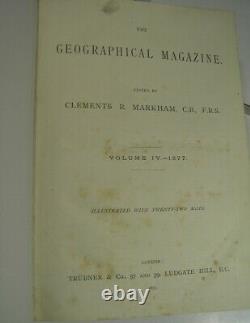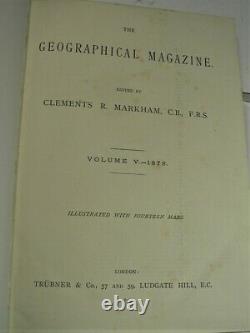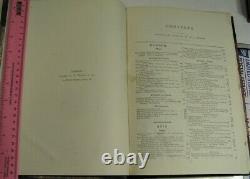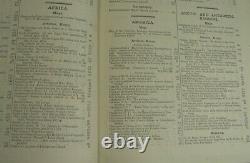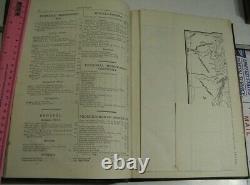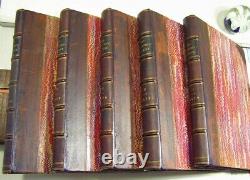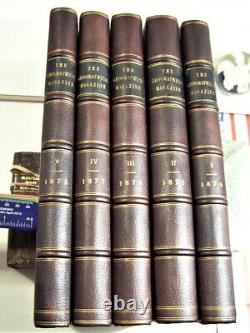 GEOGRAPHICAL MAGAZINE 1874 to 1878/RARE 1st Ed. VERY RARE - SCARCE FIRST EDITION - FIRST IMPRESSION - FIRST ISSUE. RARE LIMITED EDITION of a CELEBRATED & IMPORTANT WORK - UNCOMMON EDITION. RARE FIRST EDITION - ILLUSTRATED with 101. All published COMPLETE AS ISSUED. THE GEOGRAPHICAL MAGAZINE Vol 1 to 5 ; 1874 to 1878. Rare First Edition in 5 volumes [Complete]. 11.5" x 8.5" inches (LxB). 1200 pages illustrated with 101 lithographed maps, many in color. Volume 1 with Very interesting accounts of both Warburton & John Forrest's presentation of papers to the society at the time of their West Australian explorations. Also includes an account of the Vienna Geographical Society meeting where it is announced that Hume had discovered the fate of Ludwig Leichhardt by talking to Classen, his companion, who had joined a tribe of aborigines. Bound in 3/4 calf leather boards, sympathetically rebacked in antique style, using matching brown calf leather, gilt ruled spine with 5 raised bands & with all the 5 original black gilt lettered morocco labels relaid. Markham was responsible for the revision of the Society's standard Hints to Travellers, and for relaunching the Journal of Proceedings of the Royal Geographical Society in a much livelier format. (vi) 384 pages, 21 maps. (vi) 340 pages, 27 maps. (vi) 334 pages, 22 maps. (vi) 318 pages, 14 maps. Content includes, Volume 1: Pp.
"Map of a portion of Afghanistan, by Colonel Frazer Tytler"; Map showing the position of Hormuz Island by A. Stiffe, map of the North End of Ormuz & a Birds Eye view of Hormuz & a view of the Portugese fort.
Sketch Map of the Russian Province of Amu Daria. Map showing Paderin's Route to the site of Karakorum by Colonel H. Viti or Fiji Islands with large folding map by E. Ravenstein; Roman Catholics in Great Britain lge.
Folding map; Visit of Mr. Paderin to Karakorum with map; emigration article by Wm.
Robinson including notes on assisted passages to Australia, etc; The Cameron expedition to Lake Tanganyika with map; Djetyshah (EasterN Turkistan) article by Robert Michell which concludes with him questioning Yakub's sovereignty with the Chinese determination to invade his territories, with map of Kashgar by E. Ravenstein; travels in Northern Persia by W. Gill (folding map); North American Boundary survey by Capt. Anderson (folding map); American exploration, the survey of Dr.
Ravenstein with map; Robert Brown article "On Human Agency in the Dispersion of Plants" quoting. In New Zealand especially do we see this struggle for existence going on between Nature and introduced plants and animals... "; Markham, irrigation in Southern India, the Periyar Project with 2 maps; Abolition of the coolie traffic at Macau; From China to Peru, the emigration question by Clements Markham; continuing article throughout by Godfrey Turner on impressions of Jamaica with "Visit to Gov. Eyre; Polar content includes Sherard Osborn article on routes to the North Polar region; Voyage of the Challenger by J.
Davis, including information on sub-Antarctic Islands under Kerguelen, Tristan da'Cunha; German Polar volume by Robert Brown; The Arctic Campaign of 1874; the Austro-Hungarian Polar Expedition, 7pp by Lt. Julius Payer (with map); Basin of Helmund, with large folding map. Great African discovery of Lake Tanganyika by Lt. Folding map & another of his voyage round the lake lge. Folding map; Miklucho Maklay in New Guinea (Russian traveler); review of Livingstone's journals' Disco Bay North Greenland by Robert Brown; Great Tibet discovery of Lake Tengrinor; trade routes to Western China lge folding map S. Asia; Italian exploration of New Guinea; travels in Great Tibet & trade routes between Tibet & Bengal by Markham; New state of Colorado by Alvan Southworth with Dr. Hayden expedition, 6 pp, interesting commentary on polygamy in Salt Lake City; folding map of Sir Douglas Forsyth's mission to Kashghar; letter from John Forrest to Sir Henry Rawlinson on his journey in Western Australia, 2pp, outlined before his paper delivered the next month; Nachtigalls travels in Africa (lge folding map); Capt. Napier's travels in Northern Persia; recent Russian exploration in Western Mongolia, Sosnovski & Miroshnichenko on the upper Irtysk (map); Zanzibar by Seyyid Barghash (folding map); Markham on the discovery of the course of the Congo; Olena expedition by Chekanovski & Muller (map); Report on the presentation by John Forrest, June 28, 1875; notes in recent explorations in Central Asia; recent journeys in Paraguay by Mr.
Polar - Continuation of Challenger voyage in Antarctic Waters by J. Davis; work of the Arctic Expedition by Sir L. McClintock; Arctic expedition of Alert, Discovery & Valorous lge. Detailed Maps of the DISPUTED TIBET - CHINA - India Nepal Afghanistan Bhutan Borders.
There are over 100 pictures given below. From Wikipedia, the free encyclopedia.
The Geographical Magazine, 5 vol. Maps, mainly folding, some in colour. One or two marginal tears, illustrations, occasional spotting and finger-soiling, contemporary half calf, cracked.
Joints, loss to some spines, rubbed and worn, 4to, 1874-78. Includes maps of Afghanistan, Persia, India, as well as accounts of Stanley's Voyage down the Congo; Abbe. Armand David's Travels in China; Famine in India 1876-77; an obituary and other pieces relating to David.
Livingstone; and an extensive article on Roquefort sheep and cheese by Horace St. Of excellence is assigned by the proverb to Brie, but by truth to Roquefort cheese. There are numerous CLOSE-UPS GIVEN BELOW. Not a single 5 volume set listed online.
Only partial sets of 1 or 2 volumes. Check sellers other auctions as we have. A Rare book set in the original contemporary in 3/4 calf leather boards, sympathetically rebacked in antique style, using matching brown calf leather, gilt ruled spine with 5 raised bands & with all the 5 original black gilt lettered morocco labels relaid (See Scans below), pages with some age toning, are clean & bright (See Scans below), the binding is tight & intact. The leather is smooth & supple to the touch. Note: Rebacked spines, the insides are fine.
A very rare - scarce title. There are many close-up pictures for your kind perusal. BOOKS TREASURES IS A LICENSED BUSINESS. BOOKSELLER IN THE STATE OF NEW YORK. Visit store: Booker17:- Books Treasures.
Sir Clements Robert Markham KCB FRS (20 July 1830 - 30 January 1916) was an English geographer, explorer, and writer. He was secretary of the Royal Geographical Society (RGS) between 1863 and 1888, and later served as the Society's president for a further 12 years. In the latter capacity he was mainly responsible for organising the National Antarctic Expedition of 1901-04, and for launching the polar career of Robert Falcon Scott. Markham began his career as a Royal Naval cadet and midshipman, during which time he went to the Arctic with HMS Assistance in one of the many searches for the lost expedition of Sir John Franklin. Later, Markham served as a geographer to the India Office, and was responsible for the collection of cinchona plants from their native Peruvian forests, and their transplantation in India.
By this means the Indian government acquired a home source from which quinine could be extracted. Markham also served as geographer to Sir Robert Napier's Abyssinian expeditionary force, and was present in 1868 at the fall of Magdala. The main achievement of Markham's RGS presidency was the revival at the end of the 19th century of British interest in Antarctic exploration, after a 50-year interval.
He had strong and determined ideas about how the National Antarctic Expedition should be organised, and fought hard to ensure that it was run primarily as a naval enterprise, under Scott's command. To do this he overcame hostility and opposition from much of the scientific community. In the years following the expedition he continued to champion Scott's career, to the extent of disregarding or disparaging the achievements of other contemporary explorers.
All his life Markham was a constant traveller and a prolific writer, his works including histories, travel accounts and biographies. He authored many papers and reports for the RGS, and did much editing and translation work for the Hakluyt Society, of which he also became president in 1890.
He received public and academic honours, and was recognised as a major influence on the discipline of geography, although it was acknowledged that much of his work was based on enthusiasm rather than scholarship. Among the geographical features bearing his name is Antarctica's Mount Markham, named after him by Scott in 1902. Though every item is catalogued with the intent of accuracy. Minor flaws, may not always be noted, that is why there are 50 to a 100 pictures of every book we list.
Take a look at our new inventory and see if you can find some great deals. We appreciate your interest in our Shop and we will send you emails periodically. New titles listed every weekend. Add me to your Favorites list. Books & Treasures Is A Licensed Business/bookseller In The State Of New York. If you have any Questions, regarding Description and/or Condition. All items are guaranteed authentic and original. We do not sell reproductions or copies. Buyers to pay US Postal Service charges. International Buyers Please Note: VERY IMPORTANT.
We do not mark merchandise values below value or mark items as "gifts" - US and International government regulations prohibit such behavior. Minor flaws, may not always be noted. SEE & ENLARGE THE MANY PICTURES FOR A BETTER IDEA OF CONDITION Etc.
Or all QUESTIONS, regarding description and condition. See our feedback score, over 6,900 satisfied customers. Please review scans carefully and ask questions before purchasing. BOOKS & TREASURES IS A LICENSED BUSINESS/BOOKSELLER IN THE STATE OF NEW YORK. If you have any Questions. FREE scheduling, supersized images and templates. Make your listings stand out with FREE Vendio custom templates! Over 100,000,000 served. Get FREE counters from Vendio today! This item is in the category "Books & Magazines\Antiquarian & Collectible". The seller is "booker17" and is located in this country: US. This item can be shipped worldwide.
Year Printed: 1874
Country/Region of Manufacture: United Kingdom
Topic: World
Binding: Fine Binding
Illustrator: 101 Foldout Maps
Author: Clements Markham
Subject: Exploration & Travel
Original/Facsimile: Original
Language: English
Publisher: Trubner & Co.

Place of Publication: London
Special Attributes: 1st Edition, Collector's Edition, Illustrated, Limited Edition