Complete TYPOGRAPHICA 1st OLD Series Herbert Spencer Typography Graphic Design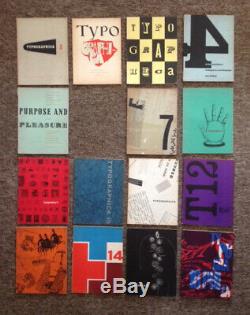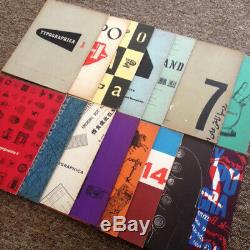 See my other listings for a complete set of Typographica 2nd (New) Series. If you clicked the link then it's almost certain that you know what Typographica is all about and how important it was in the world of design - so I won't go into details. This is my spare set of Typographica 1st Series - a set which I've built up over the years from the better copies I've found and traded in. As it goes with Typographica 1st Series, the spines can be a little worn and chipped. In contrast to all the other Typographica I've handled over the years this set (on the whole) is in a very good condition, all with reasonably clean interiors, yet with the usual shelf ware, etc.
Please note that Issue 6 is missing.. I'll make a point of searching through my collection and throw it into the set if I find it. Happy to answer questions and/or share more images.
Typographica 1, 1949 (24 pages). Contents: Magic and the art of writing; The integration of photo and type; The use of space in typography.
Typographica 2, 1950 (38 pages). Contents: Copper-plate scripts; Political typography; The ornamental lettering of Imre Reiner; Visual aids. Typographica 3, 1950 (38 pages). Contents: Function and design in business printing; The possibilities of the photogram; Central School experiments with photograms; Modern French book illustration.
Typographica 4, 1951 (48 pages). Contents: Type faces: a plea for rational terminology; First principles and last hopes; Music engraving; Chastel's illustrations for Le Bestiare.
Typographica 5: Purpose and Pleasure, 1952 (40 pages). Contents: Is there a'new' style of typography? Illustration versus typography; Modern typography in the modern world (by Paul Rand); Typography to-day (by Max Bill); Must line weight be uniform? Typographica 7, 1953 (48 pages).
Contents: Newspaper typography; Max Bill; Artist and newspaper; A note on early race programmes. Typographica 8, 1953 (44 pages). Contents: A show of hands; Dick Elffers; The autobiography of the wooden press; University magazines; Designing Perspectives USA (by Alvin Lustig). Typographica 9, 1954 (40 pages). Contents: Publishers colophons; The machine-set advertisement; Pattern, sound, and motion (Central School type experiments); Recent typography in France; Trends in abstract painting in France. Typographica 10, 1955 (36 pages). Contents: Stedelijk Museum catalogues; The training of typographers; French lithographic illustration. Typographica 11, 1955 (36 pages). Contents: The tower of Babel; International publishing; H. Typographica 12, 1956 (44 pages). Contents: Letters in steel; Additions and revivals; Clavés Gargantua; The development of Mistral. Typographica 13, 1957 (40 pages). Contents: French book clubs; Locomotive lettering; The arrow in the road; The illustrations of Avigdor Arikha. Typographica 14, 1958 (40 pages). Contents: The publications of Gaberbocchus Press; Two German presses; Sandberg's Experimenta Typographica; Old-fashioned types and new-fangled typography.
Typographica 15, 1958 (40 pages). Contents: Telephone directories; Lunch-hour photograms; Büchergilde Gutenberg; Dutch chocolate letters. Typographica 16, 1959 (44 pages). Contents: Modern Hebrew typefaces; Capitals, twin- and multi-print (with red/green paper spectacles inserted); El Lissitzky: typographer.
The item "Complete TYPOGRAPHICA 1st OLD Series Herbert Spencer Typography Graphic Design" is in sale since Thursday, December 12, 2019. This item is in the category "Books, Comics & Magazines\Magazines\Architecture, Art & Design". The seller is "kidfrisbee" and is located in Falmouth, Cornwall. This item can be shipped worldwide.
Publication Name: Typographica
Publication Year: 1949 - 1959
Language: English
Special Attributes: 1st Edition