ALL PLAYBOY MAGAZINES FROM 1953 2014, NICE CONDITION, 724 mags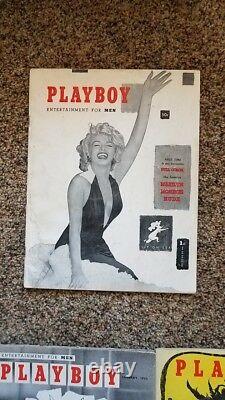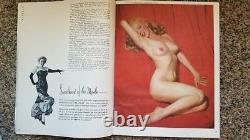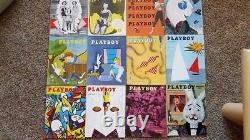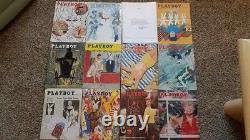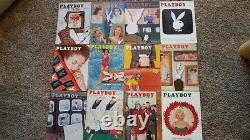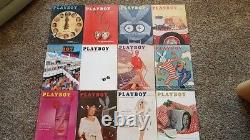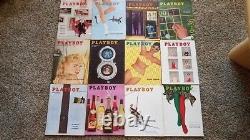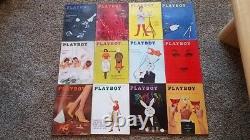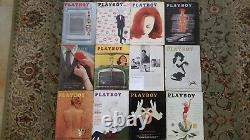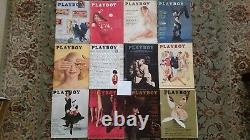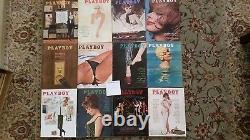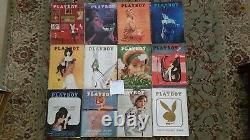 If you are reading this then you know that Hugh Hefner has passed away and anything published before he died will only go up in value. If you are not aware the first 15 issues 1953 to January 1955 are the most valuable of the issues.
Each is worth at least in the low hundreds up to a few thousand or so for the first issue. No real collection has value if you do not have the earliest of issues. Here is my story that I wrote a few months ago in anticipation that this time would come. Here is a complete collection of every Playboy ever made from the first issue in 1953 through 2014. No March 1955 but I have a copy of the letter that Playboy sent saying they were skipping March.
I saw my first Playboy in the mid 60s after my grandmother passed away and my grandfather moved into his own apartment. I still have the original magazine rack that he had the magazines in. I acquired it decades later after he died and my parents for some reason kept it.
My oldest friend in the world and I would go over to visit my grandfather and sneak a peek at the issues when he was not looking. I even remember one of the jokes that was in one of the issues. Later in the mid 70s I started collecting a few that I hid in an old car that was sitting in the garage at my parents house. When I moved out on my own in 1979 I joined the Playboy club in Phoenix and went down once a month to get my free issue.
That became a hassle so I started a subscription which I have had ever since. About 15 years ago I was going to go through and keep the issues that I was interested in and was planning to get rid of the rest. The issues were so expensive that the first issue I bought did not have a cover. When the issue arrived I pulled it out of the protective holder it was in and the piece of tape that was holding the flap down on the protective cover attached to the front newsprint page and ripped a little piece out of it.
I had the issue for 30 seconds and I damaged it. I cannot tell you how many hundreds of hours I have spent collecting these issues. I actually have two sets of the issues since it did not take twice as much time to collect two sets than it did one. Not one collection had more than a hundred issues in it and most of those were in typical to poor condition.
It is rare that I only bought two issues of a particular month. Most of the time I had three to five of each issue in order to come up with the two nicest sets. This is a nice high graded set of magazines that most people that just have their one set is not going to compare to. Do you know how much a Bankers Box full of Playboys weighs, about 50 pounds?
I cannot tell you how many times I have pulled my back moving this collection around over the years. So why did I do it, I wanted to have a complete set for myself. How do you put a price on having a hobby?
Hobbies are normally not profitable just pleasurable and rewarding. I was going to save this second set for my son but he seems to have no interest or appreciation for Playboy. He grew up with the availability of the internet since he was in Junior High School so these are pretty tame.
This collection is every issue from the first issue in 1953 through 2014. I stopped collecting about the time Playboy changed their format. I cannot tell you that every single issue I have is in perfect condition but the rare ones (1953 to January 1955) are the best of many that I have had of each issue. None of those are mint but are nice issues. I do have many really nice issues that some may consider to be MINT but I do not want to represent that all 724 issues are in that condition.
All issues have an attached cover and a centerfold. There may be a loose centerfold or piece of tape, a little rip here or there or a dog eared page or cover, a rusty staple or date or writing on the cover, a little water stain or something else.
This is what you can expect from 60 years of issues but once again these have been high-graded from many issues per month. I can describe each one that you are interested in particular if you want. S ome issues were printed with m ultiple covers.
February 2009 there were three different covers with Hef's three current girlfriends (one on each cover, Kendra, Bridgette and Holly) and I have all three. McCarthy each were on a cover, I have both and J. Uly 1997 there are two different Farrah Fawcett covers and I have both. Most people that list that they might have all issues really do not if they do not have the multiple covers. This is a real collection. I have most years through the 80's already photographed. The ones pictured are the oldest and you can see what condition they are in. I also have all the VIP magazines from 1964 to 1974 that were given or mailed to key card members, most of the older supplements, The Best of Playboy Volumes 1 to 10 and other memorabilia including some issues with the Playmates signatures. I only met one of them in the 70's. The item "ALL PLAYBOY MAGAZINES FROM 1953 2014, NICE CONDITION, 724 mags" is in sale since Saturday, July 3, 2021. This item is in the category "Books & Magazines\Magazines".
The seller is "scubasolarman" and is located in Cave Creek, Arizona. This item can be shipped to United States.
Topic: Men's Interest
Publication Name: Playboy (Pre-1980)
Publication Frequency: Monthly
Features: 1st Edition
Publication Month: December
Publication Year: 1953