1980 No 4 VACATION magazine Technical Review punk fanzine CLAUDIA SUMMERS DNA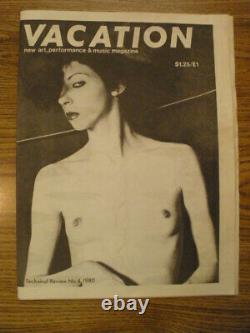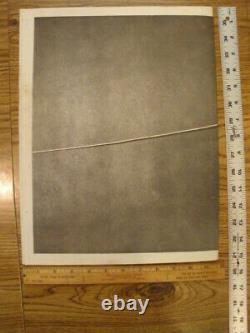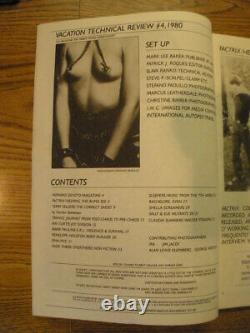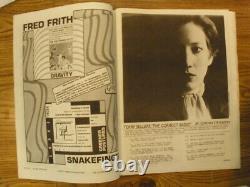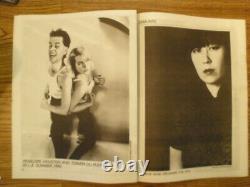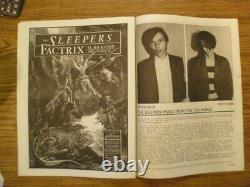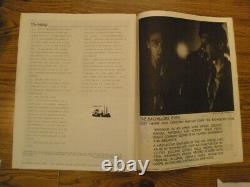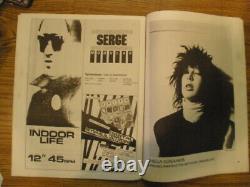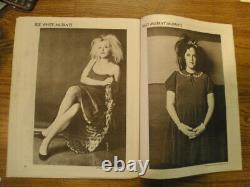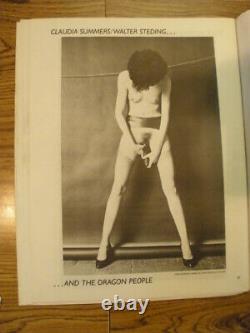 1980 No 4 VACATION magazine Technical Review punk fanzine CLAUDIA SUMMERS. DOES NOT QUALIFY FOR MEDIA MAILING. NOTE ALL here MUCH SHARPER & CLEARER than my photography!
Akin to hen's teeth........ HERE - 1980 No 4 VACATION magazine "Technical Review" issue punk Fanzine The Magazine for Today's Young Sophisticates Large-format approx.
11-1/2 x 15-1/2 periodical 36 pgs in VG+ condition. Cover - Claudia Summers by Marcus Leatherdale, NYC'80 Mark Lee Baker - Publisher at large Patrick J. Roques - Editor / Surgeon Printed and distributed from San Francisco California USA. HOWARD DEVOTO - MAGAZINE - FACTRIX - Helping The Blind To See - TERRY SELLERS - The Correct Sadist by Gordon Stevenson (interview) and Excerpts from "The Correct Sadist" interview w/ Patrick Roques Aug. 1980 - TRANCE JOURNEY FROM POST-CHAOS TO PRE CHAOS - Slava Ranko / Trance interview - IAN CURTIS / JOY DIVISION - MARK PAULINE Extreme Mechanical Performance - S.
/ Violence & Survival Q & A - PENELOPE HOUSTON - Body Builder, Penelope Houston and Tomata Du Plenty in L. Summer 1980 - DNA - NYC / Ikue Mori - Drummer for DNA, Tim Wright, Arto Lindsay - OVER THERE OVERTHERE / Non Fiction - SLEEPERS - Music From The 7th World - Michael Belfer / Ricky Williams, Brief interaction (interview) w/ M. BACHELORS, Even - SHELLA - SCREAMERS - Supremes / Marvelettes / Air Plane Crashes / NYC - Full-Page photos Screamers SHELLA, Mutants SUE WHITE, SALLY MUTANT, - CLAUDIA SUMMERS / Walter Steding... Note : More such rare & scarce similar periodicals and topics as I'm able.
(My life now revolves between medical issues) All from a discerning private collection. As Often As Not Sporadic listings may contain.. Beat - Anti - War - Activist - Protest - Power - Capitalism - Ethnic - Racist - Establishment - Underground - Hippy - Hippie - Yippie - Yippy - Black - White - Brown - Gray Panther - Special Interest Countercultural - Groups - Radicals - Institutions - Individuals and other similar entities.... (Dependent on time and fitted between old folks medical attentions by the medical establishment). I attempt as accurate description as possible, and include photo/s.
I will do my best to answer or clarify asap. I'm no expert on anything, and determine quality or condition based on my subjective judgment, if given.
Since quality or condition is highly subjective, and since most I offer here may be USED, OLD or VINTAGE, all items are offered "AS IS" and all sales are final unless I have grossly misrepresented the item! Finally, my items and packing materials often are used/recycles, and as such I can not gaurantee they have never been exposed to dirt, dust, airborne allergens, peanuts, wild women, wild men, smoke, alcohol, children, ozone, animals, bugs, politicians, petroleum products, or other irritants, including irritating people. Thanks for your understanding, and Good Luck.
This item is in the category "Books & Magazines\Magazines". The seller is "bardsville" and is located in this country: US. This item can be shipped to United States.
Topic: Punk New Art, Performance & Music
Publication Name: VACATION
Features: New Art, Performance & Music, 1st Edition, Illustrated, International Edition
Publication Year: 1980
Genre: New Art, Performance & Music
Contributors: pat Weber