Graham's Lady's & Gentleman's Magazine. Vol 19. July-Dec 1841. First Year. Rare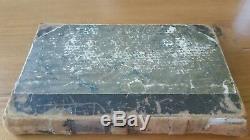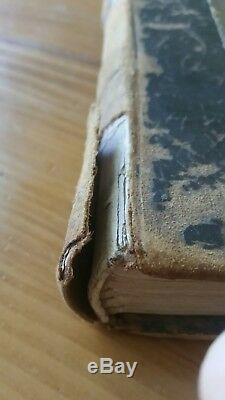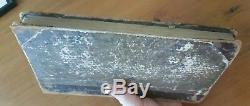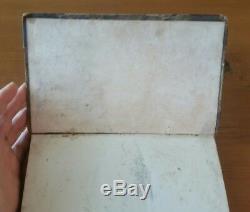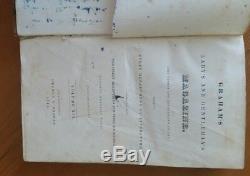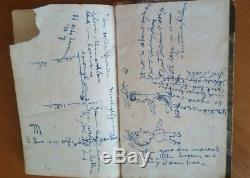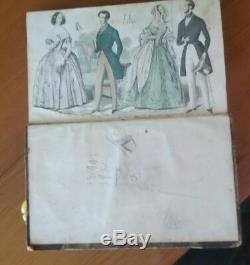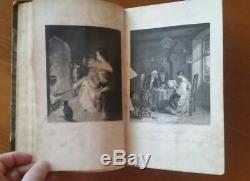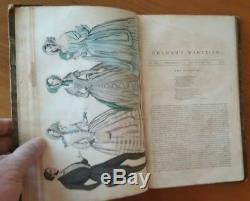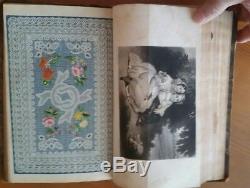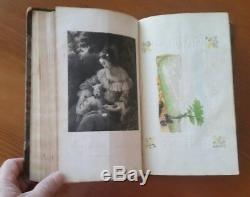 The series of Graham's Lady's and Gentleman's Magazine is a rare and valuable piece of American writings from the mid 19th century. Graham started his series of magazine books with Volume 18 and Volume19 in 1841.
The previous Volumes were a continuation of Burton's Gentleman's Magazine. The condition of this book is fair with the defects noted as follows. The Spine head has wear with the Spline Label worn off. There is a torn portion of leather at lower outer joint.
Most of the gilt cover is worn off. (see photo #1and #2) The upper and lower corners have foxing and wear.
(see photo #3) The inside front along with the front free paper and first flyleaf has writing and torn/missing sections. (see photo #4 and #5) The Index page is torn out and missing. (see photo #7) All other pages seem to be present, but a colored and stained with age. (see photos #8 thru #11) The end papers have some scribble. (see photo #6) Grahams Ladys and Gentlemans Magazine of Literature and Art (Philadelphia) It is not known if the youthful George Graham (born 1813) bought the Casket and Burtons Gentlemans Magazine with the idea that by merging them, he would achieve publishing greatness, but that is what he did. The contributors list of the new magazine would eventually read like a whos who of 19th century American literary greats: William Cullen Bryant, James Fenimore Cooper, Nathaniel Hawthorne, Henry Wadsworth Longfellow, James Russell Lowell, Mrs. Sigourney, Ann Stephens, Nathaniel Parker Willis, etc.
Edgar Allan Poe served as editor for a bit more than a year in 1841 and 1842 and contributed some of his greatest work to its pages, both during his editorship and after. Adding to Grahams luster was the fact that it was better illustrated than any earlier or contemporary magazine, boasting two or three steel engravings and usually a hand-colored fashion plate with each issue.
Graham managed to pull it all off by engaging in two seemingly simple practices: he required his subscribers to pay up-front and he paid contributors reliably and well, neither of which had ever been done before. While the magazine was published until 1858, the decade of the Forties was its golden age.
To the glory that was Greece... First Printing Poe, Edgar Allan. Graham's Lady's and Gentleman's Magazine. Graham, June - December, 1841.
Illustrated with engraved plates, some colored. Publisher's brown quarter leather and cloth. Apart from numerous reviews, and critical notes, there are several of Poe's own pieces, including: (1) July, "A Few Words on Secret Writing, "pp. 33-38; First Printing (2) August, "The Colloquy of Monos and Una", pp. 52-54; First Printing (3) August, "Secret Writing, " p.
96; First Printing (4) September, "To Helen, " p. 123; a reprint, but revised, and containing for the first time, the two lines: "To the glory that was Greece / To the grandeur that was Rome"; (5) September, "Never Bet Your Head, " p. 124-127; First Printing (6) October, "Israfel, " p.
183; (7) November, "A Chapter on Autography, " pp. A little more history on Graham. At the age of 27, Graham combined the fledgling publication with Burton's Gentleman's Magazine in December 1840. The acquired publication had 3,500 subscribers, bringing his total list to 5,000. In its first year, that number jumped to 25,000. Success was partially owed by Graham's willingness to include brand new engravings and illustrations at a time when most monthly publications were re-using old plates from other magazines. He also paid his freelance writers very well. The Casket, subtitled "Flowers of Literature, Wit, and Sentiment" had been in existence since 1826 and, despite the small subscriber base, was flourishing financially. Graham intended his new magazine to be popular amongst both men and women, containing fashion, photographs, music, short stories and critical reviews. He also hoped to reach out to both mainstream audiences and those with more refined tastes. Graham was not a writer himself, other than a section at the back of each issue called "Graham's Small Talk", and so relied heavily on contributors. His attempt at attracting the best contributors worked: Contributors to the magazine included William Cullen Bryant, Nathaniel Hawthorne, James Russell Lowell, Christopher Pearse Cranch, Fitz-Greene Halleck, George D. Prentice, Alice, Horace Binney Wallace, and Phoebe Cary. Not all writers, however, were paid. A notice in the May 1841 issue read: Writers who send articles to this Magazine for publication, must state distinctly at the time of sending them, whether they expect pay. We cannot allow compensation unless by special contract before publication. This rule will hereafter be rigidly enforced. Graham's at one point was advertised as having the most distinctive list of contributors ever achieved by any American magazine. By March 1842, Graham's Magazine was issuing 40,000 copies. This boom was reflective of a changing market in American readership. John Sartain believed its success was due to the appeal of the engravings he provided for each issue. The Post reported April 30, 1842: "It is doubtful, if engravings of equal beauty ever adorned an American work". Typical engravings in Graham's included bridges, happy maids, and scenes which focused on peaceful domestic life and promoted marriage.
The item "Graham's Lady's & Gentleman's Magazine. Rare" is in sale since Monday, November 20, 2017. This item is in the category "Books\Antiquarian & Collectible".
The seller is "mark1189520" and is located in Tucson, Arizona. This item can be shipped to United States. Graham
Region: North America
Subject: Literature & Fiction
Place of Publication: Philadelphia
Country/Region of Manufacture: United States
Topic: Literature, Modern
Author: Edgar Allan Poe
Year Printed: 1841
Language: English
Special Attributes: 1st Edition
Original/Facsimile: Original
Binding: Hardcover